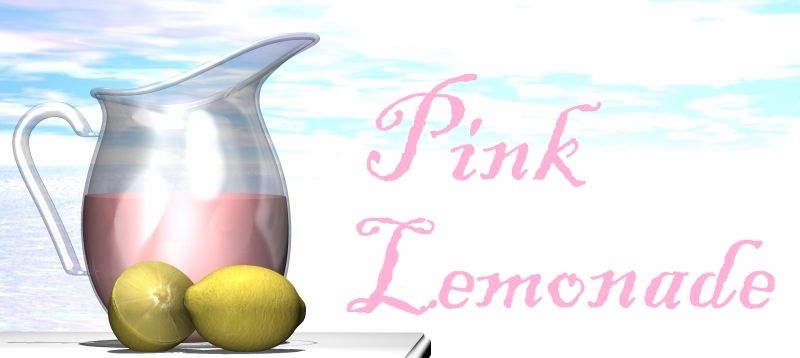 | | |
| --- | --- |
| | A five-part series wherein I examined the pitfalls both real and imagined and difficulties both encountered or merely anticipated to being a gay author in the 21st Century, and attempted to discuss how said pitfalls and difficulties could be used to our advantage, thereby employing the old adage "Making lemons into lemonade." (All Hail Beyonce!) |

Epilogue:
The Toad in the Well

or

When Words Don't Always Work
And so the Pink Lemonade Tour comes to a close. My very first virtual book/blog tour. A special thank you and round of applause to all the kind artists (writers, readers, editors and/or critics) who hosted me:
By what metric to measure success? I hope it got me some exposure. Maybe some sales. Cheap as Beasts, currently a finalist for the Lambda Literary Awards Best Gay Mystery of 2015 (yeah, I like saying that—and, in a few weeks, I won't be able to any more…), popped up into the Top 100 sellers on Amazon Kindle's Gay and Lesbian Mystery ranking (for a moment or two) yesterday. There were some very nice comments! But nothing went viral (not expected but always hoped)…Ah, well.
There's actually a lot to celebrate. I finished my first blog tour! I actually did it; that's something. I joined twitter. I learned a little more about html. And I interacted with industry people and readers. I shouted my name, mostly into the void, but there was an echo, however faint. So, two steps forward!
Now, of course, I'm bracing for the inevitable step back.
There's been a lot of that lately. For instance, And, about a week after CAB was named a Lammy finalist, my latest book proposal was rejected. Which actually inspired the blog tour. So, y'know, Lemonade!
I'm currently reading and really enjoying John Loughery's The Other Side of Silence, which recounts the often "two steps forward, one step back" (and, occasionally, one step forward, two steps back) progression of gay civil rights. For instance, he tells of the Krewe of Yuga, generally considered the first gay Mardi Gras organization (circa 1958), which was all but obliterated by a savage and demoralizing police raid of a ball in Jefferson Parish. But the brutal demise of Yuga is considered the impetus for the various gay Krewes that sprang up in its aftermath. So, one step forward, one step back, and two more steps forward.
I'm also currently at work on various projects. I've actually even made a year-long calendar with benchmarks and goals and even a few days off. So, apparently I'm beginning to take this writing thing seriously. As I've confessed elsewhere, though, my muse is a cruel bitch (pardon my Taiwanese), who enjoys abandoning me for weeks at a time and then waking me up in the middle of the night to get to work. I hope my schedules aren't but a vain attempt to tame her.
Thanks for coming on this journey with me, those of you who visited daily, and thanks for dropping by, those of you who caught only one or two entries or are stumbling onto me for the first time now. I'm leaving you today with an excerpt from Every Unworthy Thing, the sequel to Cheap as Beasts (a current finalist for the Lambda Literary Awards Best Gay Mystery of 2015! Ah, that may be one of the last times I get to say it!).
| | |
| --- | --- |
| | Jon Wilson is the author of Cheap as Beasts, a current finalist for the Lambda Literary Award Best Gay Mystery of 2015 (Oh, said it again!). He's also written a follow-up volume, Every Unworthy Thing, as well as two westerns. He lives and works in Northern California, where he's found a new found pleasure in screaming into the void. Listen closely. Can you hear him? |
If you missed any part of The Pink Lemonade Blog Tour, you can find them HERE (Part 1), HERE (Part 2), HERE (Part 3), or, alternately, HERE (Part 3), HERE (Part 4) and HERE (Part 5).

I'm giving away a signed copy of both the Declan Colette books. Just leave a semi-cogent comment (which, I suppose, means I'll have to allow "YOU SUCK!") to any of the five parts in the Pink Lemonade Blog Tour to enter (if you leave multiple comments or comment each day, you get entered for each comment)!


| | |
| --- | --- |
| | EXCERPT: Every Unworthy Thing |
Out on the street, I decided I ought to fill the tank thinking vaguely of Jack's on the corner and a Denver Omelet with home fries, but just after turning the corner onto Bush, heading west, an old Model B sedan pulled alongside me, slowing to match my pace, and a window lowered allowing a man riding shotgun to ask if I was Declan Colette.
I tossed him a glance without really devoting too much pivot of my neck, just enough so he might catch a glimpse of my frown, and kept walking. Not that I generally object to men calling to me from cars—but that Ford was Lincoln green and in need of a thorough wash.
The car sped up enough to allow it to turn into the alley a half block farther along. It stopped, blocking my way. This time the man riding shotgun opened his whole door and climbed out, waiting with a foot on the running board, one long arm propped on the roof of the car and the other atop the door frame. He was tall and spindly, with a long pointed chin and nose to match. His suit, likewise, matched his car. Both had certainly been all the rage back in 1929.
"You'll want to look into your manners," he told me.
I proceeded right up to him, stopping with about a yard of sidewalk between us, smiling to show it wasn't personal. "Mrs. Post might assert that one should offer his own name before demanding another's."
He scrunched his face up like I was speaking Chinese and before he could reply, the rear door opened and another fellow climbed out. This one was shorter of stature, but apparently quite equal in taste. Or lack thereof. He clearly patronized the same haberdasher. Stepping aside, he gestured toward the open door. "Get in."
A third fellow was seated in the backseat on the far side, which put the occupancy, including the driver, at four already. Not that my hesitation stemmed from any notion of overloading that old workhorse. But I was definitely hesitant.
I hefted my shoulders then let them drop. "I prefer to walk."
The shorter man reached out to take hold of my shoulder, hoping, I gathered, to offer some witty remark such as, "Cut the comedy." He succeeded at neither task. I slammed my right fist into his chin, shutting his mouth and sending him stumbling toward the street. He sat down on the pavement just before reaching the gutter. Tall Skinny then decided to join, but before he even got his shoe off the running board, I swung my elbow back into the side of his neck. He crumpled, and I used both hands to shove him into the front seat. I slammed the door, bearing down on it with my full weight when his shins kept it from closing properly. He cried out, but not loud enough to mask the sharp click which drew my attention to the backseat. The guy still seated there had produced an old Fitz Special, cocked and pointed in my direction.
"Play nice."
I stopped trying to close the front door and stepped back. The door swung wide, and Tall Skinny slid out, cussing and groaning about his legs. The other guy, let's call him Shorty, got up and moved toward me. Both were scowling, but all my attention was taken up by the man with the gun.
"You want me to think you'll use that?"
He shook his head, not in answer to my query, but in judgment of it. "Like I'm worried some spook might get my license number. Get in!"
I did so. Shorty followed me. That made the backseat snug if not exactly cozy. Tall Skinny crawled back into the front, all the doors were closed properly and we proceeded down the alley to Sutter.
The man with the Fitz Special slipped it over so that the barrel was tickling me just below the ribs. "What sort of armament you packing?"
"Five minutes ago, I would have said my cheerful demeanor. Now, I'm afraid all I have left is my unrivaled wit."
He brought his other hand across to pat my chest, both sides, doubtless expecting a shoulder holster and accessories. But my own Colt—and the two Lugers—were all locked up safely at the office. He slipped his fingers into my jacket pockets and apparently decided that was enough for now. He sat back, the barrel of his gun still aimed at my kidney.
"How about you spare us your wit and we enjoy the scenery?"
I made a face, just so he'd know I'd taken his recommendation into account. "I don't suppose it would get me anything to ask where we're headed." We'd made a right, reached Scott and turned left, then west on Geary, possibly going to the beach to enjoy the sunset.
Fitz Special sighed, offering me another disparaging shake of his head.
I sat quiet and so did they, for a mile or so. Rush hour traffic necessitated repeated starts, stops, and other variations of momentum. A speeding roadster cut us off as we were heading south on Masonic, eliciting a grumbled stream of invective from the driver, which in turn loosened other tongues.
"That bum did a number on my shins." That was from Tall Skinny up front, the one I'd slammed the door on. He had his pant leg up, inspecting his shanks. "I'm bleeding."
Shorty, on my right, snickered, which struck me as crass considering I'd actually managed to knock him down. Fitz Special, on my left, snarled at Tall Skinny, "Quit your bellyaching."
The driver, who was the only one whose face I had yet to see, put in, "It's pretty bad, Halley. There's blood on the carpet."
Tall Skinny appealed to him. "It is bad, ain't it?"
Fitz Special, or Halley, according to the driver, wasn't buying. "Maybe next time you'll be more careful." That brought another snicker from Shorty, and Halley told him, "And you, Ned."
I leaned toward Ned, tsking with ample derision. "Ned."
He was a young guy, probably the only one in the car younger than me, which made his suit that much more ridiculous. His face was full and round, with a pug nose, the mouth of a malevolent cherub, and no real chin to speak of. But he was excitable, like all kids. His face, pale except for where my knuckles had landed, went full red when I sneered his name like that. He jerked his left elbow hard into my right shoulder.
"You want to try again, old man?" Like I said, an excitable kid. I'm only thirty-one for Christ's sake.
"Can it, Ned," Halley told him.
I smiled. "Yeah, Ned, another kiss like that one I gave you, and your chin won't be nothing but a bump on the back of your head."
"And you," Halley told me.
But the fact is, their being so free with names had me worried. They either expected me to be so overjoyed with where they brought me to forgive them any rudeness in their invitation, or they knew it was going to be a one way trip. For me.